I met DIL in Berlin during a three day event of Throbbing Gristle's reunion at New Year's Eve 2006. There was a film premiere and two concerts at the theatre Volksbühne on 31th December 2005 and 1st January 2006. The first show was a live performance and the second an improvised live soundtrack to Derek Jarman's film In The Shadow Of The Sun. On 29 December 2005, an exhibition entitled 'Industrial Annual Report' opened at the KW Institute for Contemporary Art in Berlin-Mitte. It was a major retrospective exhibition of artworks and historical documents produced by Throbbing Gristle, curated by Markus Müller, in collaboration with Cosey Fanni Tutti.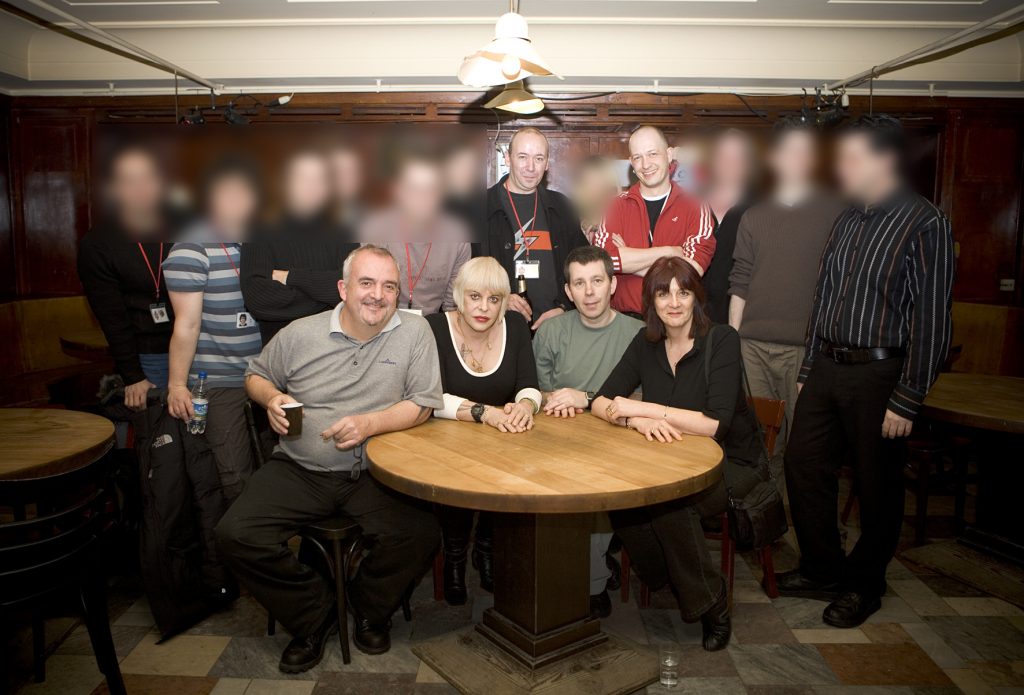 Die-hard fans like me and DIL bought a so called "Überticket" which gave us not only access to all events but also includes some extras. We've got some nice presents like a signed poster from the event and a box with special items. On the 1st January 2006 we were allowed to witness the rehearsals for the live soundtrack session to Derek Jarman's film and had a meet and greet with al members of TG in the canteen of the theatre "Volksbühne". Me and DIL get into conversation during this three days cause we met daily at the different events. But we never changed our adresses and at this point I didn't knew that DIL was DIL.
Three years later I start to be active on Twitter. The first persons I followed were Chris Carter, Cosey Fanni Tutti and Peter "Sleazy" Christopherson. And soon I noticed this guy called DIL23 who seems to be interested in the same topics like me. We followed each other swiftly. As DIL and me were both not the type of users who post selfies from ourselves we never knew that we already met in real life. But one day I posted a group picture which was shot at the meet an greet with the members of Throbbing Gristle in Berlin 2006. After that I received this PM from DIL: Enjoying Reorder Reality on ur blog – very nice. btw I am the guy in the TG shirt in the "Bad Wedding" foto standing next 2U"
DIL was a constant supporter of my musical work. He always was one of the first persons who bought new music on Bandcamp. When Peter "Sleazy" Christopherson died I made the track "Reorder Reality" in remembrance of him. I performed a live version of that track 2016 at Gallery Ludwig in Berlin-Neukölln when there was an exhibition called "Chaostrophy – Artworks Inspired By COIL"

 

For this track I used some parts of the audio track from a video clip of Sleazy's buddhist funeral ceremony. For my performance I was allowed to use this video footage shot by a friend of Sleazy out of which I edited a clip for the visuals that were projected during the gig. The whole event was streamed live and again DIL was one of the viewer who gave me a warm and positive response afterwards.
For "A Day For DIL" I made a track called "Still Alive" which will be released on a limited two tape set on the 23rd June 2018. All proceeds go to Macmillan Cancer Support. The artist line up is absolutely incredible and many of the tracks where made exclusively for this release 
(like mine)
. I am very proud to be on a release together with Carter Tutti, Scanner, Laica or Sheer Zed to name but a few. The tape set will be available at the live event in Glasgow 23rd June and if not sold out online afterwards on the website of The Dark Outside
Go to A Day For DIL for more information